Sylvie Bourguignon Expository Essays
Necage
/
The papers of Ruth Whitman were given to the Schlesinger Library by Ruth Whitman between 1986 and 1995 and by her widower, Morton Sacks, between 2000 and 2009.
By: Marilyn Morgan with assistance from Emily Underwood and Samuel Bauer.
Access. Collection is open for research except for folder #6.19 (Adrienne Rich, 1973-1994) which is closed until January 1, 2050. An appointment is necessary to use any audiovisual material.
Copyright. Copyright in the papers created by Ruth Whitman is held by the President and Fellows of Harvard College for the Schlesinger Library. Copyright in other papers in the collection may be held by their authors, or the authors' heirs or assigns.
Copying. Papers may be copied in accordance with the library's usual procedures.
Ruth Whitman Papers, 1930-1998; item description, dates. MC 679, folder #. Schlesinger Library, Radcliffe Institute, Harvard University, Cambridge, Mass.
The oldest daughter of Meyer David and Martha H. (Sherman) Bashein, Ruth (Bashein) Whitman was born on May 28, 1922, in New York City. Whitman began her prolific writing career in childhood: she wrote her first poem—a love poem—at age nine, according to the Boston Globe. That same year she published her first poem. She earned a BA in Greek and English from Radcliffe College (1944) and a MA in Classics from Harvard University (1947). While enrolled at Radcliffe, Whitman eloped with Cedric Whitman, a fellow Harvard student who became a renowned classicist and professor at Harvard. The couple had two daughters, Rachel and Leda, before their marriage ended in 1958. Shortly thereafter Whitman married Firman Houghton (1919-1985); the couple had one son before getting divorced in 1964.
After publishing her first volume of poetry, Blood and Milk Poems (1963),Whitman started teaching poetry at the Cambridge Center for Adult Education in 1964. Beginning in 1969, she lectured on poetry at the Radcliffe Seminars and served as a poet-in-residence at Tufts, the Massachusetts Institute of Technology, and the University of Massachusetts. Whitman published eight volumes of poetry, specializing in narrative poems written in the voices of women from the past including The Passion of Lizzie Borden (based on the nineteenth-century Fall River alleged murderer); Tamsen Donner (one of the Donner party who died in the Wasatch Mountains while traveling to California in 1864); The Testing of Hanna Senesh (based on Hanna Senesh, an Israeli parachutist who was executed after trying to rescue Hungarian Jews in 1943); and To Dance Is to Live inspired by the life of dancer Isadora Duncan.
Whitman's volume, Hatshepsut, Speak to Me, describes the problems with sexual identity, love, work, and motherhood that she and Hatshepsut share. In the poem, Whitman converses with Hatshepsut (the only woman pharaoh in ancient Egypt) as if she were her contemporary and tries to learn how to use her strength without fear. Whitman was a founder and president of Poets Who Teach, Inc. From 1980-1995 she served as poetry editor of the Radcliffe Quarterly. She was named Radcliffe Seminars Distinguished Instructor in 1984. In 1987, she married painter Morton Sacks, who she fondly nicknamed "Moon." Following a long struggle with leukemia, Whitman died in Rhode Island on December 1, 1999.
The papers of poet and instructor Ruth Whitman include diaries; drafts, published and unpublished poems and writings; personal and professional correspondence; syllabi, course lists, planning notes and other teaching materials; publicity about poetry readings and appearances; clippings and reviews documenting Whitman's life and works; photographs; and a number of audiovisual recordings of Whitman's poetry readings. The collection includes correspondence by and about poet Eve Merriam, as, per Merriam's request, Whitman oversaw the publication of Merriam's book, Embracing the Dark, following Merriam's illness. The majority of audio recordings are on cassette tapes. Folder arrangement was created by the archivist. Folder and audiovisual titles appearing in quotation marks were created by Whitman. Electronic records received with the collection will be reformatted at some future date for inclusion in appropriate series. Most of the photographs in this collection are or will be cataloged in VIA, Harvard University's Visual Information Access database. Others, referred to as "uncataloged" photographs, are not of sufficient research interest to warrant cataloging and are simply treated as part of the documents they accompany.
Series I, BIOGRAPHICAL, PERSONAL, AND CORRESPONDENCE, 1936-1998 (#1.1-10.11, PD.1, T-433.1 - T-433.5), includes contacts; clippings; correspondence; diaries; interviews; journals; medical information; notebooks; travel itineraries; some biographical material about Morton Sacks, Whitman's third husband, and scant information about her children. It is divided into two subseries.
Subseries A, Biographical and personal, 1936-1997 (#1.1-4.13, PD.1, T-433.1 - T-433.5), contains clippings, biographical sketches, interviews, personal and professional contacts, awards, resumes, health and education information, and diaries. Most diaries chronicle the relationships Whitman had with her parents, her three husbands and her children; they discuss in great detail the death of her parents, her intense and conflicted relationship with Morton Sacks (whom she called Moon). They also document her declining health and struggle with leukemia and well as her estrangement from her children. Some diaries include copious notes on traveling, detailed recollections of dreams, ideas and drafts of poems, and research notes. Audiotapes of interviews with Whitman broadcast on local public or university radio stations are also found in this subseries. The subseries is arranged alphabetically. Folder titles appearing in quotation marks were created by Whitman.
Subseries B, Correspondence, 1936-1998 (#4.14-10.11), contains letters of both a personal and professional nature. Much of the correspondence regards Whitman's writing, and includes commentary by friends and professional contacts; acceptance and rejection letters; poetry received from other poets; requests for appearances at conferences, book signings, and other events; fan letters, etc. Of particular note is her correspondence with fellow poets T. Carmi, Peter Denzer, Robert Friend, and Edmund Pennant, which often include personal anecdotes along with drafts of poems. A close friend of writer Eve Merriam, Whitman handled correspondence regarding the publication of Merriam's book, Embracing the Dark, when Merriam became ill (#6.5-6.6). Other correspondents of note include fellow poets Rosellen Brown, Jacob Glatstein, Edwin Honig, Denise Levertov, Adrienne Rich, and May Sarton. Additional correspondence with the same authors is located throughout the collection. See Series II, which contains correspondence regarding specific volumes of poetry, translations, and other writing, and Series III, which includes correspondence from university administration (and, to a lesser degree, students) as well as invitations and itineraries for various readings, lectures, and appearances. The collection contains scant correspondence with family; see (#11.8) for correspondence between Whitman and her daughters' attorneys. The subseries is arranged alphabetically by correspondent followed by primarily professional correspondence arranged chronologically.
Series II. POETRY, WRITINGS, AND RELATED, 1930-1998 (#10.12-29.7. PD.2-PD.6, T-433.6 - T-433.28, Vt-222.1 - Vt-222.3), contains drafts, unpublished and published poems, essays, reviews, nonfiction monographs, and translations (primarily of Yiddish poetry) by Whitman. It also includes poetry notebooks; reviews about Whitman's volumes of poetry; publicity; correspondence; contracts; royalty statements; drafts of individual poems; essays, reviews, and translations written by Whitman and off-prints of the same; short stories; three editions of an anthology of Yiddish poetry edited by Whitman; and an instructional text, Becoming a Poet. In several cases, the sequence of drafts is recorded. Correspondence in this series generally regards submissions, acceptances and rejections, criticisms and praise for both published and unpublished works, and permissions to publish, etc. Titles represented in this series include some of her more prominent collections of poems: The Passion of Lizzie Borden, The Testing of Hanna Senesh, Tamsen Donner: A Woman's Journey, and To Dance Is to Live. Less well-documented are her early collections of poems, Blood and Milk Poems and The Marriage Wig. This subseries also includes some audio recordings of Whitman reading from her volumes of poetry; these tapes are primarily recordings of public readings with audiences, but some appear to be Whitman reading poems aloud, alone, as part of her editorial process (#T-433.30 - T-433.44, side 1). Of particular note is the recording of a WGBH radio show, The Women's Show, featuring Whitman reading her volume of poetry The Marriage Wig (#T-433.6), about which there is scant material in the collection. Also of note in this series are the lyrics and sheet music for "Appletree Madrigals," the lyrics for which Whitman wrote in honor of the apple tree in Radcliffe Yard which held great meaning for alumnae. Additional audiotapes (#T-433.25, T-433.27 - T-433.29) contain recordings of readings in Yiddish by Jacob Glatstein and are followed by Whitman's translation. Videotapes of theater and dance performances of Tamsen Donner: A Woman's Journey based on Whitman's poem, are also included here. The subseries is arranged alphabetically by genre or topic and thereunder by title; untitled essays and loose poems are arranged chronologically. Folder and audiovisual titles in quotation marks were created by Whitman.
Series III. TEACHING MATERIALS, LECTURES, READINGS, APPEARANCES, AND RELATED, 1960-1996 (#29.8-33.5, PD.7, T-433.29 - T-433.64), contains correspondence; posters and publicity materials regarding public poetry readings; schedules for readings and courses; notes; syllabi, lists, lectures, and other course materials; and some audiotapes of public readings (some of which were broadcast on local public or university radio stations). Whitman also recorded (on cassette tape) several sessions of a Radcliffe seminar she led, "Contemporary Women Poets" (#T-433.42 - T-433.62). These tapes feature Whitman reading poetry of featured poets as well as instructing class and leading discussion. This series also documents Whitman's instrumental role in the Poetry in Schools program. The series is arranged alphabetically according to activity: lectures and readings are arranged chronologically thereunder; teaching materials are arranged alphabetically thereunder. Folder and audiovisual titles appearing in quotation marks were created by Whitman.
Series IV. PHOTOGRAPHS AND OVERSIZED, 1963-1985 (#PD.8- PD.11, FD.1,- FD.5, F+D.1-F+D.4, OD.1), contains posters, programs, and photographs used to promote books and speaking engagements. Also included is oversized material removed from other series. Most of the photographs in this collection are or will be cataloged in VIA, Harvard University's Visual Information Access database.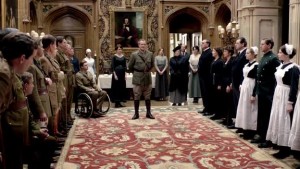 In Season 2, Downton pauses to remember the fallen soldiers of World War I (@ITV).
The 11th hour on the 11th day of the 11th month signifies the end of World War I. In the United States it is observed as Veteran's Day, a day aside to pay tribute to celebrate living veterans who served in the military. In May, Americans remember those soldiers who passed in the service of their country on Memorial Day.
Across the British Commonwealth, November 11th is known as Remembrance Day, a day to remember and give thanks to all those men and women who were killed during the two World Wars and other conflicts. This also gives us the opportunity to give thanks to those veterans for their service to our country.
The Poppy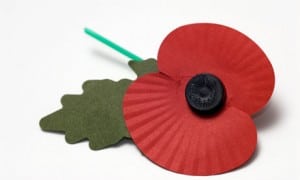 Remembrance Day Poppy worn in the UK.
The poppy has long been associated with war. The seeds can lie dormant in soil for years, and grow once the ground has been disturbed, like those fields ravaged by war. Canadian doctor Lieutenant Colonel John McRae, was so struck by the sight of the bright poppies growing on a desolate field in northern France during WWI that he penned the famous poem "In Flanders Fields". In response, American Moina Michale wrote "We Shall Keep the Faith", pledging to wear a poppy to remember the dead; the tradition for the poppy began.
Beef Bourguignon
World War I battlefields are located along the Belgian coast, through the southern Belgian province of West Flanders and regions of northern and eastern France. Some areas are frequently visited by pilgrims and tourists, such as the Somme and Verdun battlefields in France, many by those visiting the graves of those relatives who are buried there. I have written a bit about the Canadian contribution to the war effort. Lord D like many other Canadians, shares the photo of a family member on this day. He plans, like many others who have lost relatives in the war, to visit his uncle's grave.
My thoughts of France led to the selection of a popular French comfort food to commemorate the day: Boeuf/Beef Bourguignon. This dish is essentially an upstairs version of a simple beef stew, named for Burgundy after the type of wine which was used in the dish. While battle did not take place in Burgundy during the war, the harvest was put in jeopardy as all the able-bodied men left the vineyards to fight for their country.
Frugal cooks have always looked for ways to tenderize cheaper cuts of meat; using alcohol and low heat is a great technique. For St. Patrick's day we made a downstairs dish, a traditional Irish Stew with beer. Wonder how much alcohol is really "burned off"? In this dish, 95% is evaporated over time, but check out the chart which provides some interesting information.
It was Auguste Escoffier, the influential french chef of the Edwardian era, who brought humble beef stew to fine dining rooms. Escoffier's approach to the dish was to marinate the beef in red wine prior to cooking in more red wine.
In America it was Julia Child taught us how to make his famous dish, further popularized in Julie & Julia. I love this clip where aspiring blogger Julie talks about her connection to Julia Child and this recipe. I keep saying, food is about love and being inspired to share that love and comfort with others through food… so cook on and remember.
Own your Own
Tools of the Trade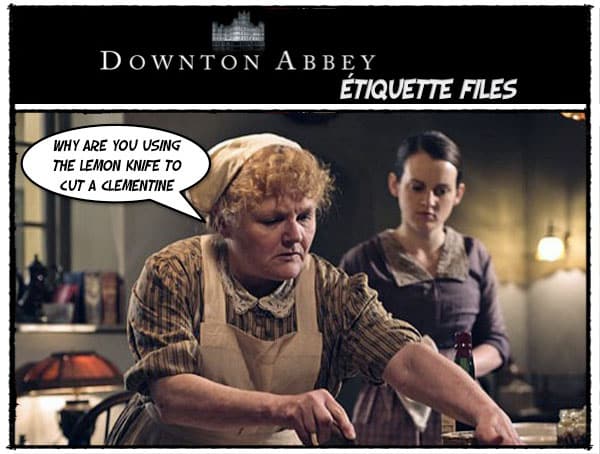 As Mrs. Patmore says, "a poor workman blames his tools". If you want to invest the time in learning to cook you should fortify yourself with proper cooking tools.
I do love the hunt in my local cooking stores, but you can order items directly from Cooking.com (see links on the side) which I have used for years, or now through Amazon, so you have more time to watch Downton.
Dutch Oven: every Downton Cook needs a good dutch oven.
I love my Cuisnart Dutch Oven; its easy to clean and lighter than Crueset.
However, I will be inheriting my mother's Crueset set which she inherited from her mother and love to use those bright pots when I visit. The enamel will darken so be sure to use proper cleaner to keep them white.
Julia Child's Boeuf Bourguignon
Votes: 0
Rating: 0
You:

Rate this recipe!

Print Recipe
This version of Julia's recipe comes from her first episode of the French Chef, demonstrating the technique of browning meat, deglazing a pan, braising onions and sautéing mushrooms. This is a marathon, but it can be done in stages. It also give you practice with french techniques which are important in Downton cuisine.
Julia Child's Boeuf Bourguignon
Votes: 0
Rating: 0
You:

Rate this recipe!

Print Recipe
This version of Julia's recipe comes from her first episode of the French Chef, demonstrating the technique of browning meat, deglazing a pan, braising onions and sautéing mushrooms. This is a marathon, but it can be done in stages. It also give you practice with french techniques which are important in Downton cuisine.
| | | |
| --- | --- | --- |
| Servings | Prep Time | Cook Time |
| 4-6servings | 40minutes | 4hours |
| | |
| --- | --- |
| Servings | Prep Time |
| 4-6servings | 40minutes |
Ingredients
Servings: servings
Units:
Instructions
Prepare the Bacon
Remove bacon rind and cut into lardons (sticks 1/4-inch thick and 1 1/2 inches long). Simmer rind and lardons for 10 minutes in 1 1/2 quarts water. Drain and dry.
Sauté lardons in 1 tablespoon of the olive oil in a dutch oven for 2 to 3 minutes to brown lightly. Remove to a side dish with a slotted spoon.
Prepare the Beef
Preheat oven to 450 degrees
Dry beef in paper towels; it will not brown if it is damp. Heat fat in your dutch oven until almost smoking. Add beef, a few pieces at a time, and sauté until nicely browned on all sides. Add it to the lardons on the side dish.
In the same fat, brown the sliced vegetables. Pour out the excess fat.
Return the beef and bacon to the dutch oven and toss with 1/2 teaspoon salt and 1/4 teaspoon pepper.
Sprinkle on the flour and toss again to coat the beef lightly. Set the dutch oven uncovered in middle position of preheated oven for 4 minutes and remove from the oven.
Toss the meat again and return to oven for 4 minutes (this browns the flour and coves the meat with a light crust). Remove your dutch oven, place on the stove, and turn the oven temperature to 325 degrees.
Stir in wine and 2 to 3 cups stock, just enough so that the meat is barely covered.
Add the tomato paste, garlic, herbs and bacon rind. Bring to a simmer on top of the stove.
Cover casserole and set in lower third of oven. Regulate heat so that liquid simmers very slowly for 3 to 4 hours. The meat is done when a fork pierces it easily.
Prepare the Onions and Mushrooms
Heat 1 1/2 tablespoons butter with one and one-half tablespoons of the oil until bubbling in a skillet. Add onions and sauté over moderate heat for about 10 minutes, rolling them so they will brown as evenly as possible. Be careful not to break their skins. You cannot expect them to brown uniformly.
Add 1/2 cup of the stock, salt and pepper to taste and the herb bouquet. Cover and simmer slowly for 40 to 50 minutes until the onions are perfectly tender but hold their shape, and the liquid has evaporated. Remove herb bouquet and set onions aside.
Wipe out skillet and heat remaining oil and butter over high heat. As soon as you see butter has begun to subside, indicating it is hot enough, add mushrooms. Toss and shake pan for 4 to 5 minutes. As soon as they have begun to brown lightly, remove from heat.
Finishing
When the meat is tender, pour the contents of the dutch oven into a sieve set over a saucepan. Wash out the casserole and return the beef and lardons to it. Distribute the cooked onions and mushrooms on top.
Skim fat off sauce in saucepan. Simmer sauce for a minute or 2, skimming off additional fat as it rises. You should have about 2 1/2 cups of sauce thick enough to coat a spoon lightly. If too thin, boil it down rapidly. If too thick, mix in a few tablespoons stock. Taste carefully for seasoning. Pour sauce over meat and vegetables.
Cover and simmer 2 to 3 minutes, basting the meat and vegetables with the sauce several times. Serve in your dutch oven, or arrange stew on a platter surrounded with potatoes, noodles or rice, and decorated with parsley.
You can serve right away, but I always find it always tastes better the next day so hopefully you will have some leftovers!